Activités amusantes à faire au lac de Garde
Best Fun Things to Do in Lake Garda
Fun water activities to enjoy in Lake Garda:
Make a Splash! Top Water Fun in Lake Garda
As the largest lake in Italy, Garda offers premier aquatic recreation with its brilliant blue waters backed by craggy cliffs and gleaming whitewashed villages. From thrilling watersports to leisurely cruises, family-friendly play to romantic sunset sails, Lake Garda serves up endless opportunities for fun on and around the water. Visitors flock here to enjoy the range of aquatic adventures that make a Lake Garda getaway unforgettable.
Windsurfing and Kitesurfing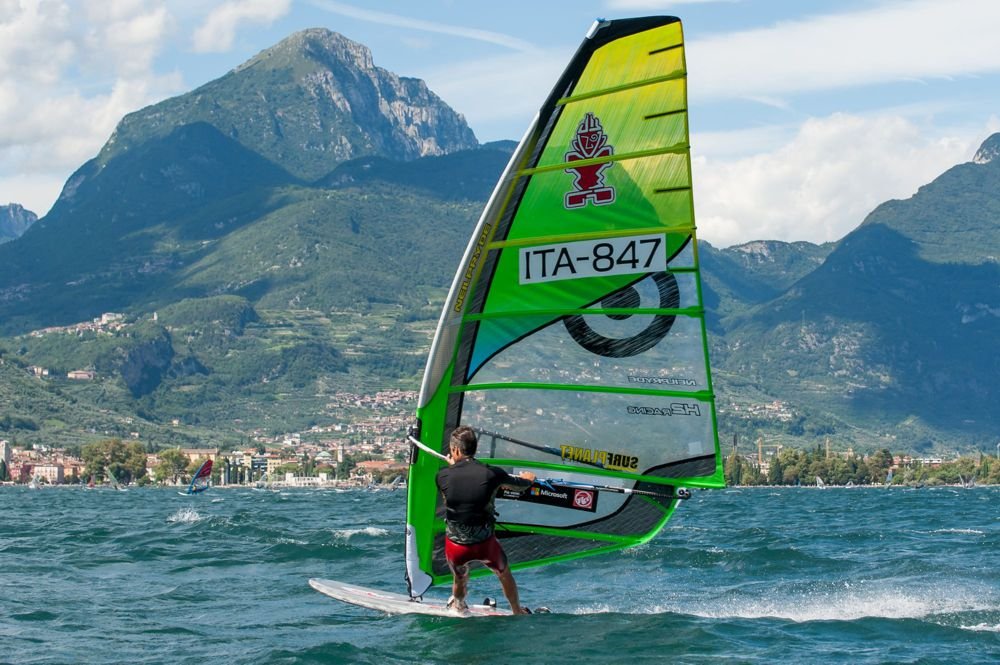 Thanks to consistent wind patterns, Lake Garda ranks among Europe's top windsurfing and kitesurfing destinations. The northern towns of Torbole and Riva del Garda especially attract wind warriors seeking smooth-as-glass water and gusty thermals for catching big air. Rental shops like Surf Segnana offer equipment and lessons for all levels. Newcomers can get introduced to the rush while experts carve over swells at heart-pounding speeds. The lake's winds deliver adrenaline-charged fun. The challenging conditions promise heart-pumping thrills.
Sailing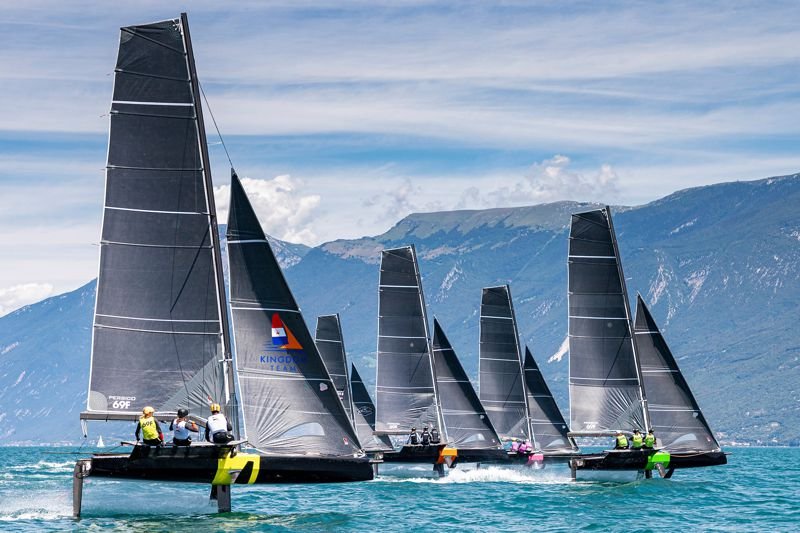 With favorable breezes and scenic surroundings, Lake Garda provides a sailor's paradise. Marinas around the lake rent a huge fleet from small dinghies to sleek sailboats for independent or crewed charters. Multiday "flotilla" group sailing adventures let you island-hop down the lake with other boats. Take a sailing lesson or test nautical skills tacking across Garda's waves during popular regattas and competitions. However you chart your course, smooth sailing awaits.
Jet Skiing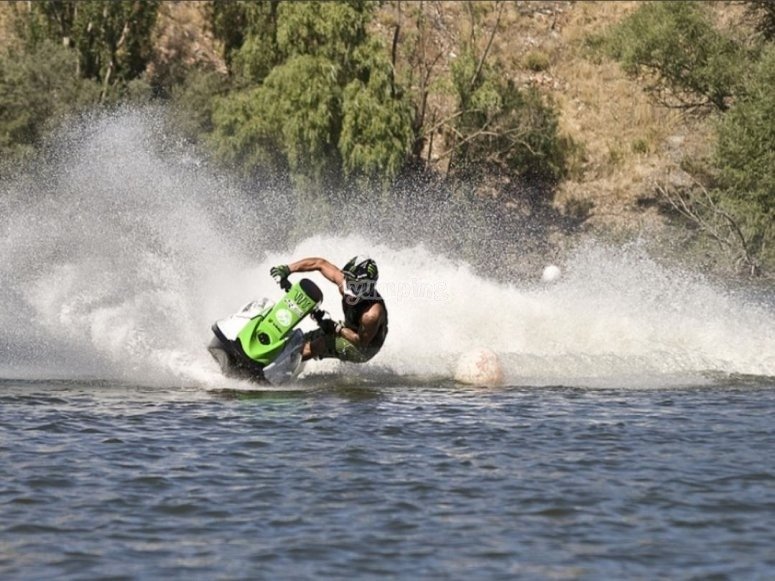 If you crave a faster-paced water adventure, jet skiing brings high-octane excitement to Lake Garda! Rental operators like RunRent in Desenzano offer guided jet ski tours that take you soaring over the waves while admiring gorgeous backdrops of lakeside villages and mountains.
Find here what moutains are near lake garda
With proper safety gear provided, these thrilling rides reach speeds up to 60 mph while the lake sprays up around you. Hold on tight!
Wakeboarding and Waterskiing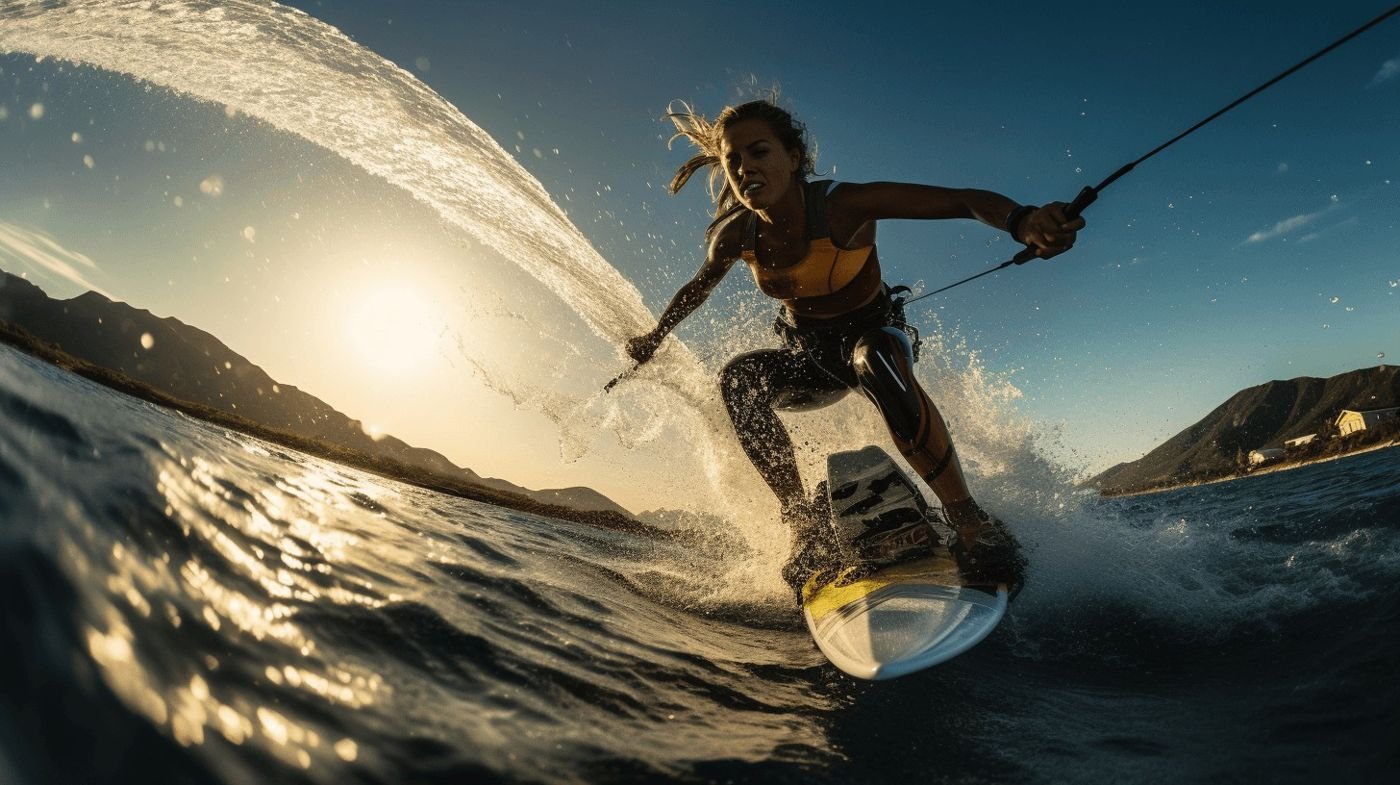 Get an adrenaline boost as a boat tows you at thrilling speeds across Lake Garda's glittering surface. Learning proper technique is part of the fun during lessons at specialized waterski and wakeboard schools. Once upright gaining speed, see how many wild tricks you can nail or try keeping up with competitions. With the lake's smooth waters, scenic vistas inspire while showing off your skills.
Flyboarding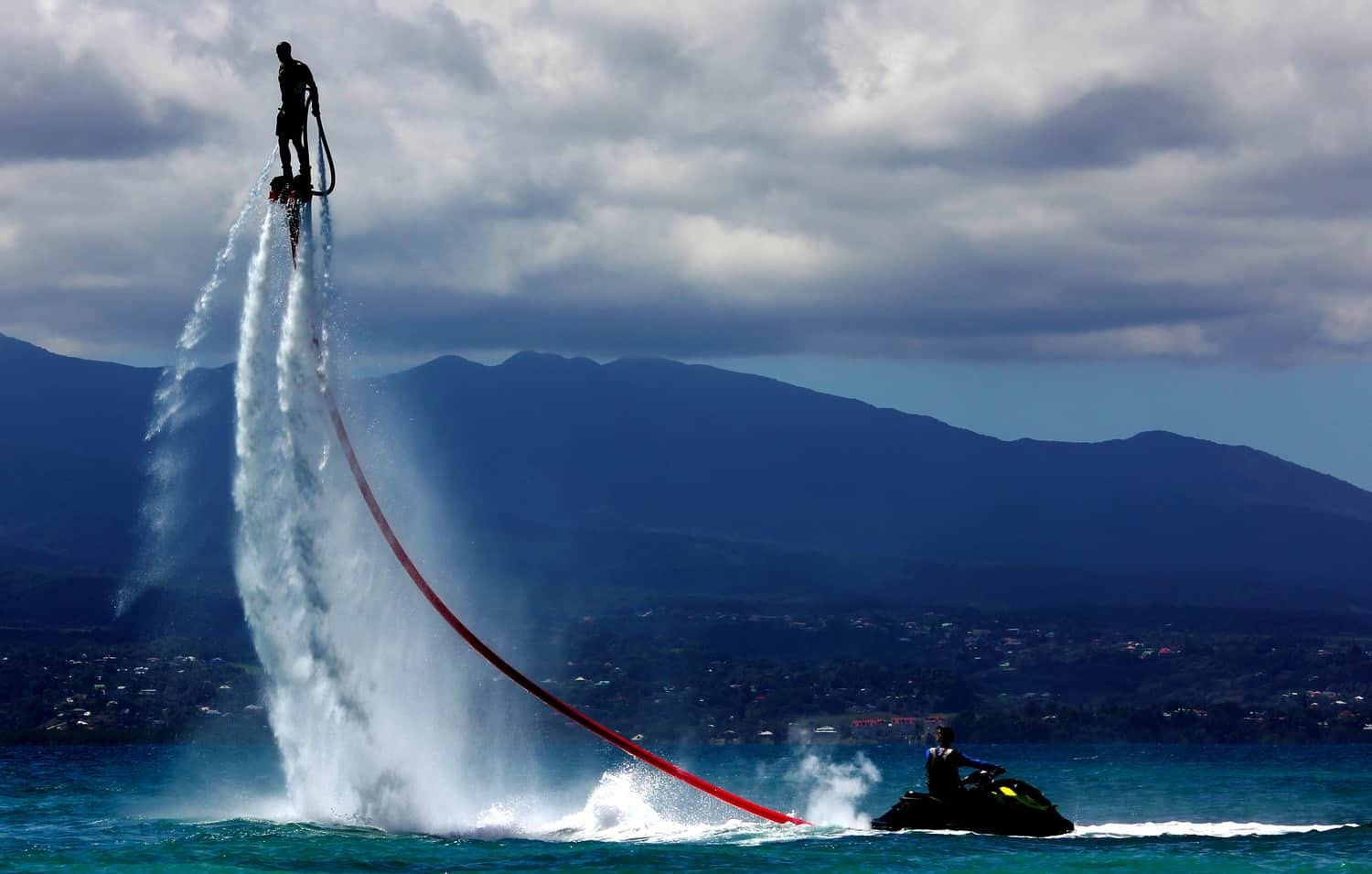 The latest craze in hydro-powered sports, flyboarding allows riders to propel above the water like an extreme waterskiing Iron Man. High-pressure jet streams let you hover, flip, and dive up to 30 feet in the air above the lake. After instruction, flyboard tours let novices experience the thrill under a watchful eye before trying solo flights. Capture those Instagrammable moments soaring over the water like a superhero!
Stand Up Paddleboarding (SUP)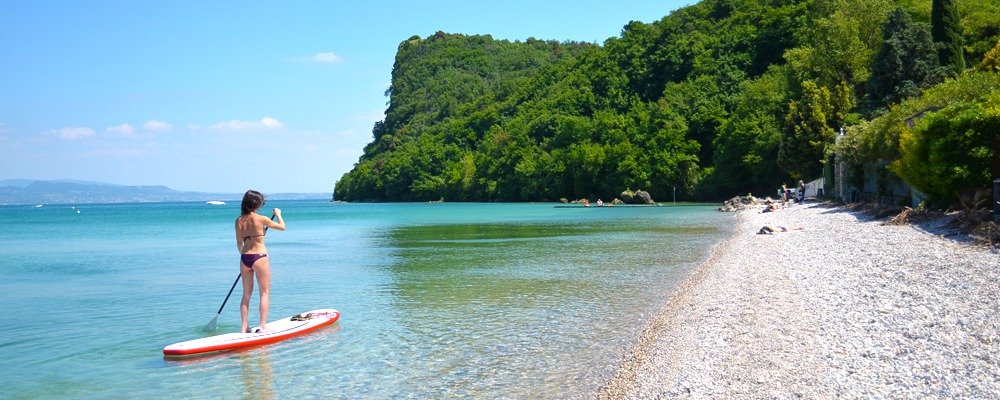 Paddleboarding's popularity continues to rise across Lake Garda as a fun way to skim pristine waters with stunning backdrop views. Gentler areas like Baia delle Sirene in Garda suit beginner paddlers learning proper balancing techniques before venturing farther out. More experienced SUP fans can paddle distances across the lake to spots inaccessible except by water. Add yoga for an extra challenge!
Canoeing and Kayaking
Paddle power also propels kayaks and canoes for leisurely self-guided tours exploring Lake Garda's indented shores and secluded bays. Rentals are available in towns like Riva del Garda and Sirmione. Guided kayak excursions provide easy paddling fun to sights like hidden caves only accessible from the lake. Pack a picnic or swim gear to enhance the experience. With minimal effort, a whole aquatic playground opens up by paddle.
Wild Water Parks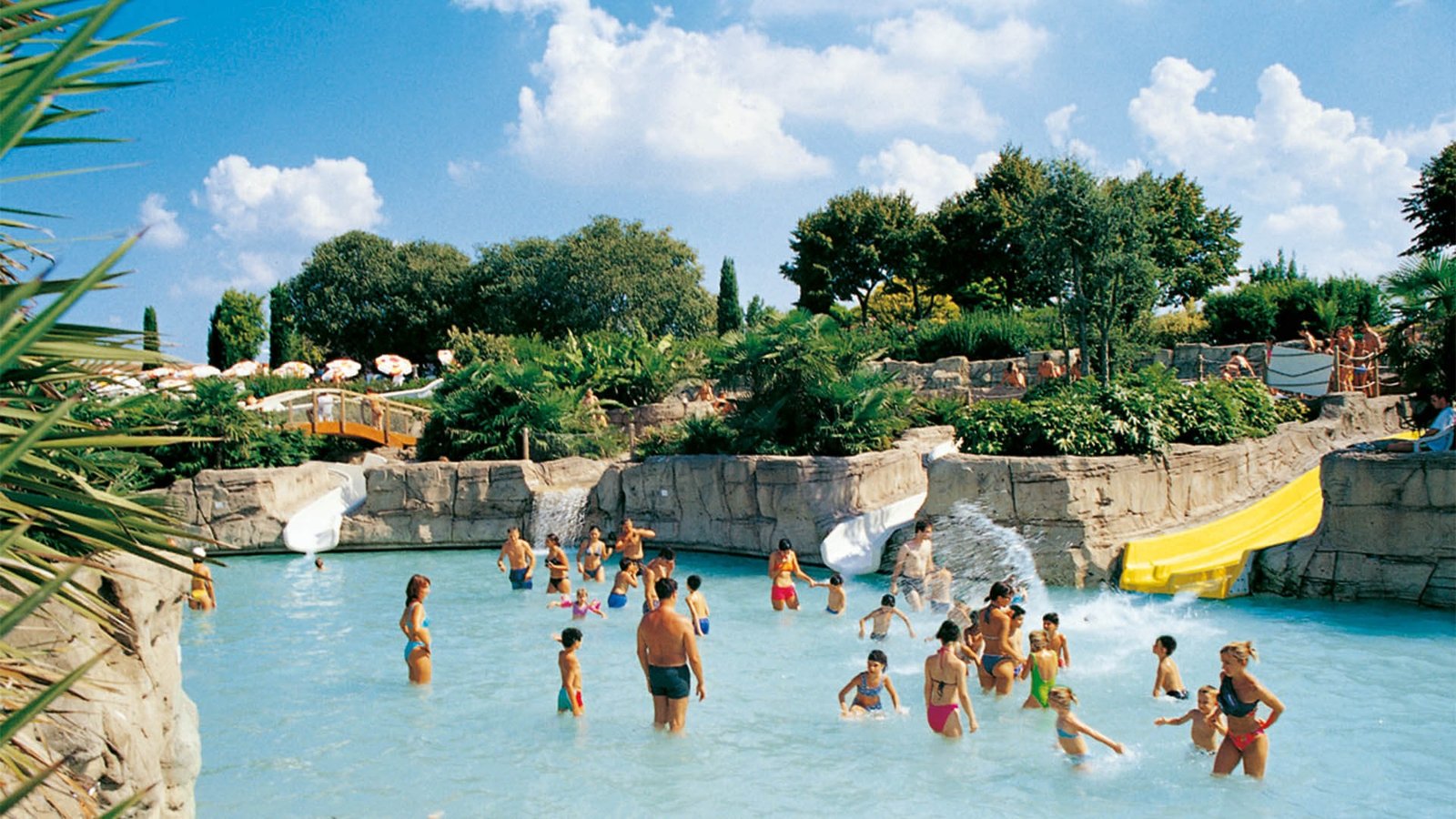 When Garda's heat spikes, dozens of waterslides and pools at parks like Gardaland, Canevaworld, and Parco Acquatico offer cooling family-friendly fun. Adults and kids alike thrill shooting down massive slides with looping tunnels, racing lanes, and surprise drops. Float lazily around wave pools and winding rivers between rides. Multi-park tickets and combo deals with area theme parks like Movieland provide savings on soaked summer entertainment.
Speedboat Adventures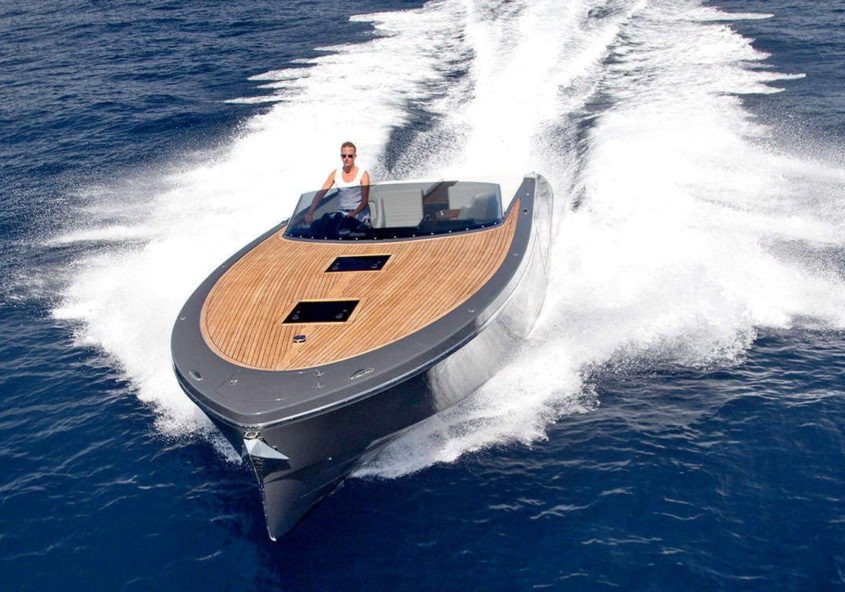 Feel the wind in your hair zipping across Lake Garda in a stylish Riva speedboat! Many towns offer speedboat tours that take you soaring over the waves to premier sightseeing spots at exhilarating velocities. More exclusive experiences provide an appointed captain and gourmet catering for a luxury "boatique" hotel experience on the water. Feel like an Italian movie star living la dolce vita for the day!
Fishing Trips
Anglers adore Lake Garda for its clean waters teeming with trout, pike, carp and over 20 other sportfish. Join guided fishing trips that provide all equipment and tips to hook the catch of the day. Rent boats, cast from piers, or try your luck from shore. With strict limits governing size and catch numbers, Garda's fishing encourages sustainability. Grill up your fresh catch lakeside at day's end!
Lake Cruises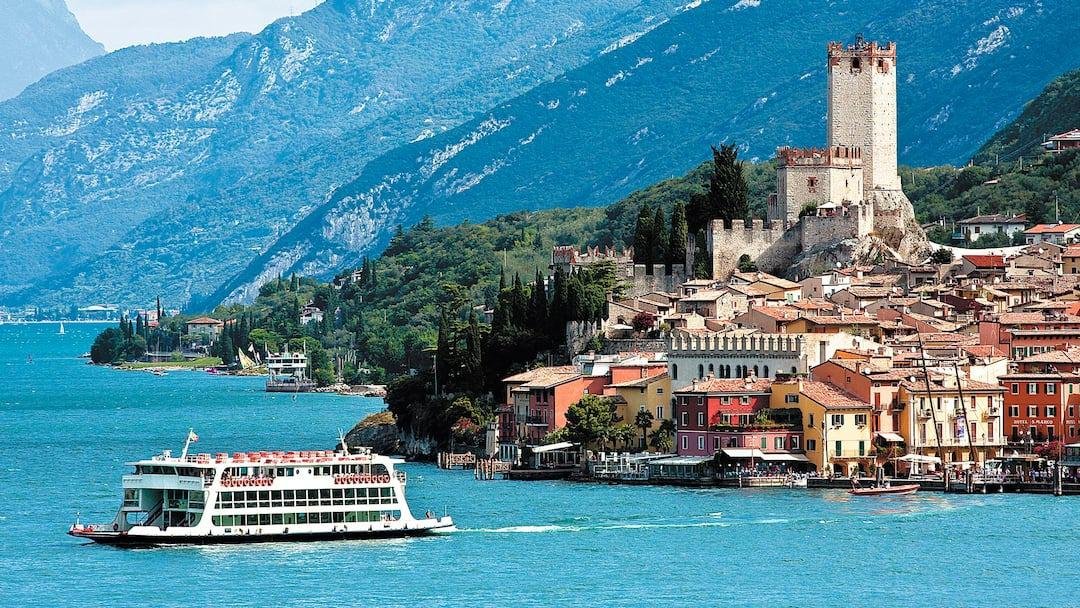 Leisurely cruising across Lake Garda reveals breathtaking views of its villages, cliffs and mountains from ideal vantage points. Public ferries connect towns but tourist boats also offer regular sightseeing circuits and themed cruises. Enjoy an aperitivo evening cruise or a lake-circle tour. With shelter from the sun and expert commentary, tours educate and entertain cruisers.
Scuba Diving Adventures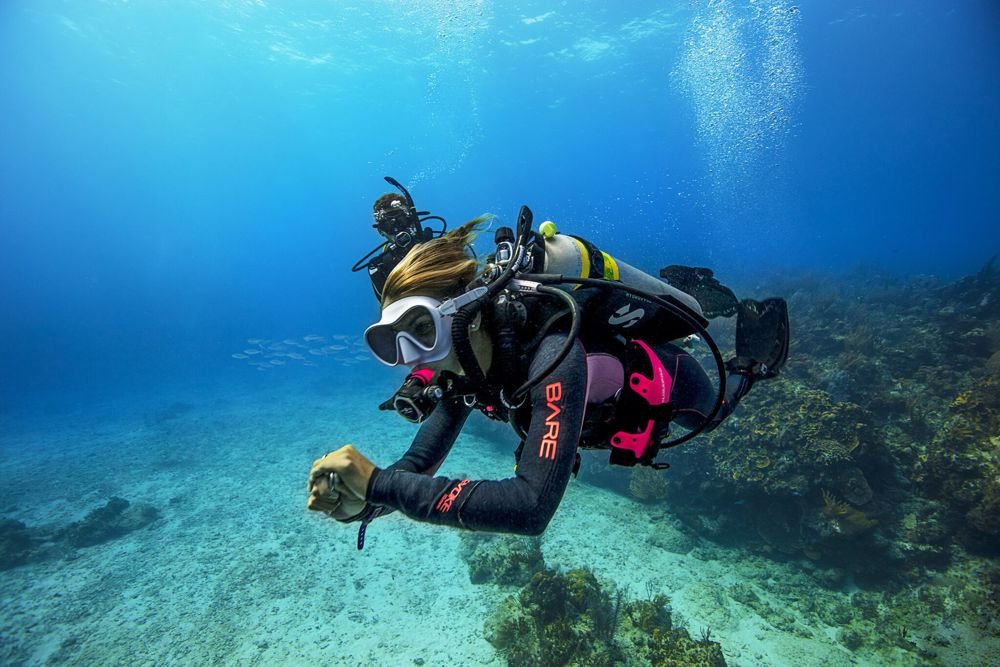 Under Lake Garda's crystal clear waters lies an incredible underwater landscape that led Jacques Cousteau to deem it the world's most beautiful freshwater dive site. Submerge into the deep to explore drowned Bronze Age villages, shipwrecks, thermal springs and dazzling aquatic life with diving schools like Dive Varenna. The lake's secrets reveal themselves below the surface.
With this amazing diversity of water-based activities, Lake Garda promisesaquatic excitement for all tastes. Thrills, scenery, and relaxation – Garda serves it all up with a generous helping of Italian charm. Don't just admire this magnificent lake from shore. Jump in to truly experience the magic of Italy's largest lake!
---
OTHER ACTIVITIES TO DO ON LAKE GARDA
Whether you seek adventure, indulgence, family bonding, or romantic escapes, Garda serves up fun and excitement for travelers of all kinds. From watersports to le vin tasting, mountain biking to spa pampering, the good times never stop around Italy's largest lake.
Get your dose of la dolce vita with these most fun things to do in Lake Garda:
Sample Local Wines
Northern Italy produces some of the world's finest wines. Sipping your way around Lake Garda provides the perfect introduction. Tour vineyards and cantinas to learn about winemaking before leisurely sampling renowned varietals like Chiaretto, Lugana, and Bardolino paired with mouthwatering local foods. Many estates allow independent sampling or guided tours. With award-winning wineries at every turn, le vin lovers find paradise.
Paddle Lake Garda
One of the most refreshing ways to appreciate Garda's beauty is by paddling across its crystal clear waters. Rent a kayak, canoe or stand-up paddleboard for a workout combined with mesmerizing views of craggy cliffs and colorful villages. Paddling allows getting close to sights like secret coves and seaside castles. Guided tours provide instruction for beginners. As you slice through the clean waters, breathe in the relaxing vibes.
Master Italian Cuisine
What better place to discover the secrets of mouthwatering Italian cooking than lakeside in Italy? From casual pizzeria classes to hands-on lessons at renowned culinary academies, exploring Italian cuisine brings delicious fun. Create handmade pastas, flavorful sauces, wood-fired pizzas, and delectable desserts before sitting down to enjoy the fruits of your labor over a shared meal.
Soak in Thermal Baths
After workouts on the lake, soak sore muscles in Lake Garda's natural thermal spring waters believed to hold healing powers since ancient Roman times. Hot spring spas like Villa dei Cedri and Lefay Resort offer outdoor lagoon pools, hydrotherapy baths, and luxury spa treatments harnessing these mineral-rich waters to melt your stress away. Pampering never felt so rejuvenating.
Thrill at Adventure Parks
From high-flying ropes courses to kayak adventures in mountain rivers, Garda's adventure parks promise excitement for all ages. Shoot down waterslides, test balance crossing aerial obstacles, or free-fall from a giant swing over a canyon. Parks like Gardaland Adventure Kingdom, CanevaWorld Aquapark and RioValli ForestPark get your heart pumping with outdoor challenges and stunts.
Party the Nights Away
When the lake's breezes turn balmy at night, Lake Garda comes alive with glittering nightlife. Sip cocktails dockside while taking in the moon's shimmering reflection on the water before hitting discos and entertainment complexes. In historic centers, piazzas and lanes fill with drinking, dancing, and socializing into the wee hours. With clubs catering to all tastes, find your nightlife groove.
Shop Local Treasures
From Italian fashion to artisanal food products, Lake Garda provides ample opportunities for indulging in retail therapy. Every lakeside village features boutiques selling locally-made leather goods, olive oils, wines, limoncello, and fashions bearing Italian style. Weekly markets and souvenir shops stock crafts, handmade paper, ceramics, fabrics and more. Bring an extra suitcase to contain these tempting Italian wares.
Stroll and Cafe Crawl
While humble in scope, one of Garda's greatest pleasures is exploring its atmospheric villages and towns on foot. Meander down narrow cobblestone lanes beneath pastel houses in Desenzano, Lazise and Sirmione. Snap photos of picture-perfect piazzas and harbors. Make frequent gelato, coffee and aperitivo stops for refreshment. At an unhurried pace, the villages unfurl their magic. Simple sightseeing brings joy.
Get Wet and Wild
Make a splash at Lake Garda's waterparks! Adrenaline junkies love zooming down huge waterslides, like a 116-foot near-vertical plunge, while floating along lazy rivers offers relaxing fun. Kids find endless amusement at wet play zones with tipping buckets and spray features. Multi-ride passes and combo deals with neighboring theme parks like Gardaland provide savings. With rides for all daredevil levels, waterparks promise soaked summer fun.
Pamper at a Spa
For indulgent relaxation, Lakes Garda's hot spring spas deliver luxury treatments harnessing thermal waters believed to restore health since ancient Roman times. Get rubbed down with olive oil and herb poultices before soaking in pools fed by mineral-rich springs. The elegant spa ambiance contrasts beautifully with the natural surroundings. Treat yourself to bliss during a lake getaway.
Pedal Along Scenic Paths
Gliding along Garda's panoramic bicycle paths brings healthy fun and fresh perspectives on the area's beauty. Ride at a casual pace soaking in vistas of vineyards, countryside villas, and glittering waters framed by craggy Alpine peaks. Family-friendly paved trails cater to all abilities. Bike rentals are easy to find lakeside. Feel the lake breezes as you explore on two wheels.
With endless diversions ranging from high-thrill adventure to serene scenery, Lake Garda promises nonstop fun for travelers of all kinds. Bask in the Mediterranean dolce vita atmosphere while creating unforgettable moments together. This Italian jewel has fun and relaxation covered – come experience it yourself!
(FAQ) – Water Fun Things to Do in Lake Garda