Glamping at Lago di Garda, Italy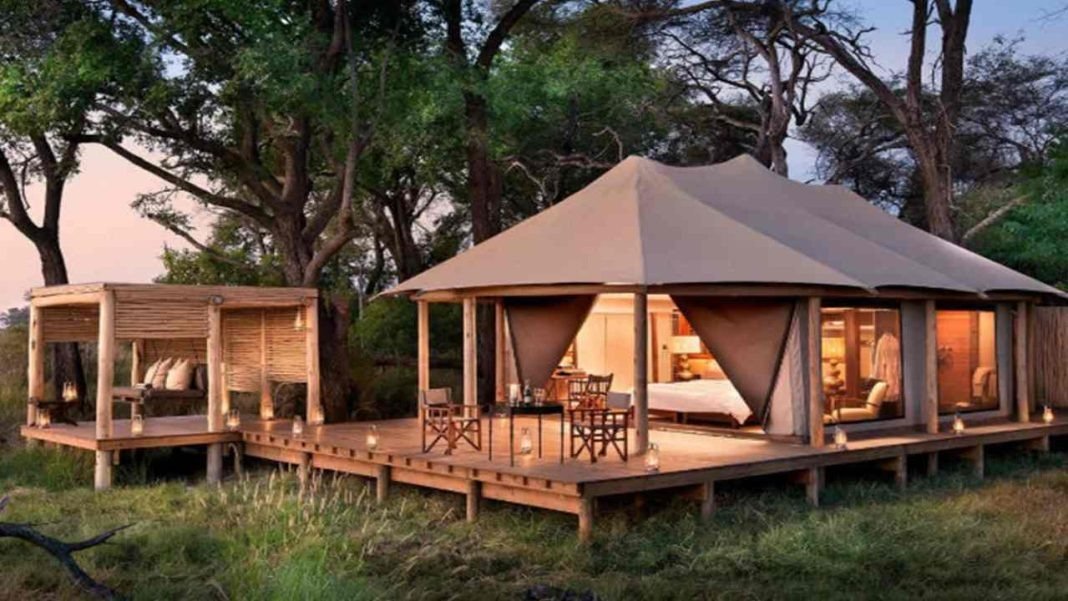 The Rise of Glamping: A Guide to Luxury Camping in Italy and Glamping at Lago di Garda!
Tired of traditional hotels? Seeking adventure in nature without roughing it? Across Italy, an upscale travel trend bridges the gap – glamping. Combining "glamour" and "camping", glamping provides the thrill of the outdoors with comforts and amenities rivaling top-end resorts.
In this extensive guide, we'll discover the glamping movement sweeping Italy and specifically, the burgeoning options around stunning Lake Garda. Learn what makes glamping so special, why it resonates with modern travelers, the unique accommodations involved, what to expect on a glamping holiday, plus insider tips to plan your Italian luxury camping getaway. Let's get ready to experience la dolce vita under the stars with Glamping at Lago di Garda
Defining Glamping
Before delving into the where's and how's, we must first answer – what exactly is glamping? In a nutshell:
Glamping involves staying in unconventional, nature-immersed accommodations decked out with posh amenities.
You enjoy outdoors activities and locations without compromising comfort.
Accommodation choices range from safari tents to treehouses to eco-lodges to tricked-out vintage campers.
Unlike roughing it in standard tents or RVs, glamping prioritizes creating a luxurious refuge in the heart of untouched landscapes. The blend of privacy, upscale facilities and raw natural beauty is what beckons travelers worldwide.
Why Glamping Resonates
What explains glamping's exploding popularity with modern travelers? Several key factors:
Uniqueness – It offers one-of-a-kind stays in Instagrammable settings far from cookie-cutter hotels.
Comfort – Plush beds, upscale baths and posh interiors bring creature comforts.
Nature Immersion – Fall asleep to hooting owls and wake to mountain views right outside your tent flap.
Seclusion – Many glamping sites are intentionally remote for ultimate relaxation.
Community Vibes – Social communal spaces bring a sense of warm camaraderie.
Eco-Friendly – Light footprint and environmental sensitivity aligns with green values.
Digital Detox – The lack of wifi and limited cell service permits an escape from constant connectivity.
Unique Experiences – Specialized activities like farm tours, foraging hikes or starlight yoga align with glamping's adventurous style.
The combination of luxury and wilderness makes glamping the perfect way to de-stress and reconnect with nature, on your own terms and comfort level.
Review of Glamping Accommodations
Now that we understand the glamping ethos, what exactly are the accommodation options? While creative choices are endless, popular Italian glamping digs include:
Pods – Small, futuristic standalone pods with sleek interiors and huge windows to enjoy the views
Domes – Geodesic dome structures immersed in nature while still cozy inside
Tiny Homes – Compact permanent cottages with chic decor in remote locales
Safari Tents – Decked-out lodging tents with plush beds, furniture, rugs and lighting
Treehouses – Elevated forest abodes surrounded by foliage, birds and tranquility
Airstreams/Campers – Retro trailer stays offer playful nostalgia with modern amenities
Cabins – Rustic but polished wooden cottages in secluded forests or mountains
Eco-Lodges – Sustainable lodges seamlessly integrated into the landscape
Shipping Containers – Recycled cargo containers transformed into swanky off-beat units
Cave Stays – Historic caves turned into subterranean glamping hideaways
Glamping digs utilize recycled, natural and innovative materials for eco-friendly stays with style and character you won't find anywhere else.
What to Expect When Glamping
Wondering what the glamping experience entails? Here's an overview of what your luxury camping stay will be like:
Check-In – Most sites have a reception area for check-in. Some may provide golf cart rides or guides to reach remote units.
Natural Sites – Your accommodation will be surrounded by gardens, meadows, forests or vineyards.
Camp Amenities – Reception, shared kitchens, barbecue spots, fire pits, dining areas, pools and hot tubs.
Unit Amenities – Expect king beds, plush bedding, chaise lounges, lanterns, furnaces, minibars and artistic decor. En-suite bathrooms with luxury toiletries and towels are standard.
Eco-Friendly – Sustainable energy like solar power, biofuel heating, eco-toilets, and locally-sourced decor are typical.
Farm-to-Table Dining – Glamping eateries highlight locally-foraged ingredients, farmstead cheeses and regional vintages.
Curated Activities – Specialized outdoor experiences like hiking, biking, foraging, yoga sessions, massage or stargazing will be thoughtfully arranged.
Digital Detox – Wi-fi may be limited only to common areas encouraging guests to unplug. But don't worry, you'll love being off the grid.
Social Connection – Communal bonfires, meals and activities promote meeting fellow glampers from around the world. You're all here to relax and bond with nature.
Glamping allows reveling in the outdoors without venturing too far from life's comforts. The perfect balance!
Why Glamp in Italy?
With its wealth of spectacular natural landscapes and mild Mediterranean climate, Italy provides an ideal destination for luxury camping holidays. Glamping at Lago fi Garda permits experiencing bell'Italia's beauty in comfort.
Scenery – From the jagged Dolomites to rolling hills of Tuscany, Italy's diverse landscapes astound.
Cities Close By – Accessible country stays near Culture capitals like Rome, Florence and Milan.
Activities – Hiking, biking, water sports, wine tasting and more are on the doorstep.
Cuisine – Farm-to-table cooking classes and tastings of local delights.
Wine – Immerse yourself in Italy's esteemed wine regions.
Coastlines – Relax by the sea with islands, cliffs and beaches beckoning.
Countryside – Retreats integrated into olive groves, citrus orchards and lavender fields.
People – Italians perfected hospitality and bonding over good food and wine!
The variety across Italy means spectacular glamping options exist from the Arctic north to Mediterranean south. You'll make unforgettable memories amongst Italians passionate about sharing the beauty of their land.
Top Glamping Destinations in Italy
Ready to start planning? Here are some of Italy's top regions to experience luxury camping:
Tuscany – Rolling hills, vineyards and cypress groves. Close to Florence and Siena.
Lake Garda – Subalpine lake with stunning mountain backdrops and dreamy towns.
Emilia-Romagna – Charming countryside with foodie culture. Close to Bologna.
Umbria – Italy's green heart with hill towns and olive groves. Near Rome.
Veneto – Dramatic Dolomites peaks and Adriatic Sea coastline. Close to Venice.
Sicily – Volcanic land merging Mediterranean flavors with ancient history.
Piedmont – Breathtaking valleys, wine regions and vistas along the French border.
Sardinia – Pristine beaches, wild interior and glitzy Costa Smeralda coastline.
Every region promises its own unique landscape to discover – from seaside cliffs in Puglia to Alpine forests in Trentino. Part of the glamping adventure is choosing the natural beauty that calls you.
Why Glamp at Lake Garda
Situated against the Dolomite Mountains in Northern Italy, Lake Garda is renowned as a glamorous resort destination. But did you know it's also emerging as a prized location for luxury camping? Let's explore why Glamping at Lago di Garda is best choice!
Natural Beauty – Azure waters. Picturesque villages. Mediterranean plants and olive groves. Breathtaking mountain vistas. What more could you ask for?
Activities Galore – Sailing, hiking, cycling, paragliding, wine tasting. The possibilities are endless.
Historic Sites – Roman ruins, medieval castles and lakeside villas offer glimpses into the destination's storied past.
Family Friendly – Sandy beaches for swimming, amusement parks, and child-centric glamping facilities appeal to kids.
Climate – Balmy weather means comfortable camping conditions from spring through fall across Lake Garda. Winters are mild with some snow.
Food and Wine – Farm-to-table cuisine highlighting lake fish, olive oil, lemons and Italian wines.
Shopping – Elegant boutiques, designer outlets and local markets offer retail therapy between adventures.
Nightlife – Lakeside bars and clubs ranging from casual to posh attract night owls.
Lake Garda delivers stunning natural landscapes with terrific weather, outdoor pursuits, delectable food and easy access to cultural attractions. It's no wonder glamping is a rising trend here. Time to choose your luxury camping adventure!
Top Glamping Spots Around Lake Garda
The following destinations offer amazing places to try your first Lake Garda glamping holiday, from north to south:
Camping Boschetto di Riva – Rustic wooden huts nestled on a hillside surrounded by nature above bustling Riva del Garda.
Camping Le Palme" – Safari tent stays immersed in olive groves outside Gargnano on the tranquil western shore.
Camping La Rocca – Hillside haven well-located for exploring towns like Garda and Bardolino in comfort.
Glamping Resort Lemene – Luxurious lodge and tent accommodations on a farm estate practicing sustainability.
Agricampeggio San Francesco – Charming vineyard camping with elegant tents moments from scenic Lazise.
Luxury Camping Mirò – Mediterranean oasis with cute wooden "barrels" just outside lively Peschiera del Garda.
Glamping Castelletto – Cliffside tent stays overlooking picturesque Tarzo Bay close to Sirmione peninsula.
With so many exquisite options, you're certain to discover your perfect luxurious camping experience around Lake Garda's shores. Each site transports you into the beauty of nature while still pampering your every need.
What to Expect Glamping at Lake Garda
Wondering what an actual glamping holiday entails on the shores of Lake Garda? Expect an unforgettable experience with:
Safari Tent Lodging – Most sites utilize expansive safari tents fully equipped with furniture, electricity, plush beds and private bathrooms with hot showers.
Sustainability – Green building materials, solar power sources, on-site gardens and farms, and eco-friendly waste systems aim to conserve this precious land.
Communal Areas – Socialize around fire pits, help yourself in outdoor kitchens, and bond with fellow glampers from around the world.
Family Friendliness – Many sites offer family suites, kid's clubs, playgrounds and child-centered activities perfect for an outdoor family holiday.
Accessibility – Lake Garda's compact layout means the water and villages are never too far from campsites. Some offer shuttle services.
Adventure Activities – From hiking Mount Baldo to cycling vineyards to paddleboarding below cliffside castles, camp staff organize diverse outdoor excursions.
Relaxation – Unwind with alfresco spa treatments, yoga sessions, stargazing, medieval village tours or chilling by the pool with a good book.
Foodie Experiences – Savor gardening workshops, pasta making classes, wine tastings showcasing local vintages and farm-to-table dining.
Glamping on Lake Garda promises all the connection with nature you crave, infused with a touch of Italian luxury. Bask in the beauty of Italy's largest lake from your posh canvas abode.
Booking Your Lake Garda Glamping Trip
Ready to start planning an unforgettable luxury camping holiday at Lake Garda? Keep these tips in mind:
**Reserve Early – **Popular glamping sites fill up fast. Book 4-6 months out.
Location – Choose a site based on your interests. North for mountains and hiking? West for views? East for vineyards?
Style – Match the vibe you want – remote tent in nature or social resort? Historic farm or sleek eco-lodge?
**Duration – **Go for 3+ nights; it takes a day to unwind into the camping rhythm.
**Amenities – **Seek sites with extras like restaurants, pools, beaches for more options.
**Transportation – **Contemplate if a car is essential depending on the remoteness of camp location.
**Proximity – **Consider distance to key towns and if shuttles are offered.
**Weather – **Spring and fall offer ideal temperatures. Summer brings crowds.
With some thoughtful planning using the guidance above, your Lake Garda glamping experience will meet all your travel dreams. Get ready to fall asleep each night to the sound of lapping waves and birds, with the majestic Italian mountains keeping watch in the distance.
Frequently Asked Questions about Glamping at Lago di Garda
1. What is Glamping? Glamping stands for "glamorous camping." It combines the experience of camping with the luxury and comfort of a hotel. It involves staying in unique and well-equipped accommodations in natural settings.
2. What is Lago di Garda? Lago di Garda, also known as Lake Garda, is the largest lake in Italy. It's situated in the northern part of the country and offers stunning views, charming towns, and various recreational activities.
3. What is Glamping like at Lago di Garda? Glamping at Lago di Garda offers a unique way to experience the beauty of the lake and its surroundings. You'll stay in comfortable accommodations such as safari tents, yurts, cabins, or treehouses, which are often equipped with amenities like real beds, private bathrooms, and even air conditioning.
4. What types of Glamping accommodations are available at Lago di Garda? There's a variety of glamping accommodations to choose from, including safari tents, eco-pods, luxury cabins, floating lodges, and more. Each option offers a different level of comfort and immersion in nature.
5. Is Glamping suitable for families? Yes, glamping at Lago di Garda is suitable for families. Many glamping sites offer family-friendly accommodations and activities, making it a great choice for a memorable family vacation.
6. What activities can I do while Glamping at Lago di Garda? Activities vary depending on the location, but common options include hiking, water sports like kayaking and paddleboarding, cycling, wine tasting, and exploring nearby villages and towns.
7. Do Glamping sites provide amenities like regular hotels? Yes, glamping sites at Lago di Garda often provide amenities similar to hotels. These can include comfortable bedding, private bathrooms, electricity, Wi-Fi, and sometimes even gourmet dining options.
8. Is Glamping at Lago di Garda expensive? The cost of glamping at Lago di Garda varies depending on factors such as the type of accommodation, the time of year, and the specific site. Generally, it's more expensive than traditional camping but offers a more luxurious experience.
9. When is the best time to go Glamping at Lago di Garda? The best time to go glamping at Lago di Garda is during the spring (April to June) and fall (September to October) when the weather is pleasant, and the crowds are smaller. However, some sites operate year-round, so you can also enjoy winter glamping.
10. How do I book a Glamping experience at Lago di Garda? You can book a glamping experience at Lago di Garda through various travel websites, glamping-specific platforms, or directly on the websites of glamping at lake garda on sites in the region. It's recommended to book well in advance, especially during peak seasons.
11. What should I pack for a Glamping trip? Pack clothing suitable for the weather and activities, as well as any personal items you might need. Many glamping sites provide essentials, but it's a good idea to bring essentials like sunscreen, insect repellent, and any special items you require.
12. Is Glamping suitable for solo travelers? Absolutely, glamping at Lago di Garda is suitable for solo travelers seeking a unique and comfortable outdoor experience. It's a great way to connect with nature while still enjoying some luxuries.
13. Are pets allowed at Glamping sites? Pet policies vary among glamping sites. Some sites are pet-friendly, allowing you to bring your furry companions, while others may have restrictions. Always check with the specific site offering glamping at Lago di Garda regarding their pet policy before booking.
14. Can I cook my own meals while Glamping? Many glamping accommodations offer kitchen facilities or outdoor grilling areas, allowing you to prepare your own meals. Some sites also offer on-site dining options or food delivery services.
15. Is Glamping eco-friendly? Many sites offering Glamping at Lago di Garda prioritize sustainability and eco-friendliness. Some use renewable energy sources, practice waste reduction, and promote eco-conscious practices to minimize their impact on the environment.
Remember that specific details and offerings can vary between different sites offering Glamping at Lago di Garda, so it's always a good idea to research the site you're interested in for more accurate information.