Lake Garda vs Lake Como: A Battle of Italian Beauty
Italy is a country renowned for its breathtaking scenery, captivating culture, and delectable cuisine. Within this magical land, two sparkling jewels stand out among the rest – Lake Garda and Lake Como. These picturesque lakes are icons of Italian beauty, each offering a unique blend of natural splendor, enchanting towns, and endless opportunities for adventure. Join us as we embark on a journey to compare these two magnificent destinations and uncover which one will steal your heart.
Lake Garda
The Allure of Lake Garda: Stunning Landscapes & Charming Towns
Lake Garda, located in northern Italy, is the largest lake in the country and boasts a landscape that will leave you awestruck. Surrounded by majestic mountains and rolling hills, the scenery is nothing short of spectacular. The lake's crystal-clear turquoise waters mirror the verdant greenery, creating a postcard-worthy view at every turn.
In autumn, with hillsides ablaze in autumn foliage, one can see why Lake Garda has enchanted visitors for centuries. Ancient fortressed towns crown mountain peaks and capes jutting into the water, adding to the dramatic views. The mild climate enables Mediterranean plants like groves of olives, cypress and lemon trees to thrive. Everywhere you look around Lake Garda, there is an interplay between the stunning natural setting and the picturesque, history-rich towns that makes this region truly special. Whether exploring waterside villages, lush parks and gardens, or the lake itself on boat tours, Lake Garda never fails to impress.
But it's not just the natural beauty that sets Lake Garda apart – the charming towns that dot its shoreline add an irresistible allure. From the medieval streets of Sirmione to the colorful facades of Malcesine, each town has its own unique character and hidden treasures waiting to be discovered. Whether you're strolling along the promenade, indulging in gelato, or exploring ancient castles, Lake Garda promises a delightful experience for every visitor.
Lake Como
Lake Como: Italian Elegance in a Picturesque Setting
If Lake Garda is the epitome of natural beauty, then Lake Como is the definition of Italian elegance. Nestled amidst the foothills of the Alps, Lake Como's ethereal setting is nothing short of enchanting. The lake is surrounded by grand villas, lush gardens, and charming villages that exude sophistication and tranquility. One of the most iconic towns on Lake Como is Bellagio, often referred to as the "Pearl of the Lake." With its cobbled streets, pastel-colored buildings, and elegant villas, it truly feels like stepping into a fairytale. The town's botanical gardens and panoramic views of the lake are simply breathtaking. As you explore the shores of Lake Como, you'll be captivated by the timeless beauty that has attracted artists, writers, and celebrities for centuries.
Outdoor Adventures: Exploring Lake Garda's Thrilling Offerings
Lake Garda is not just a feast for the eyes but also a paradise for adventure enthusiasts. With its perfect blend of mountains and water, the lake offers a wide range of outdoor activities for adrenaline seekers. From windsurfing and sailing to mountain biking and paragliding, the possibilities are endless. The northern part of the lake, known as the windsurfing capital of Europe, attracts water sports enthusiasts from around the globe. The strong winds and clear waters create the perfect conditions for windsurfing and kiteboarding. On the southern shores, hikers and climbers can explore the stunning trails of the Monte Baldo mountain range. Whether you're seeking an adrenaline rush or a leisurely hike, Lake Garda has something to offer for everyone.
Sophistication and Serenity: Lake Como's Tranquil Delights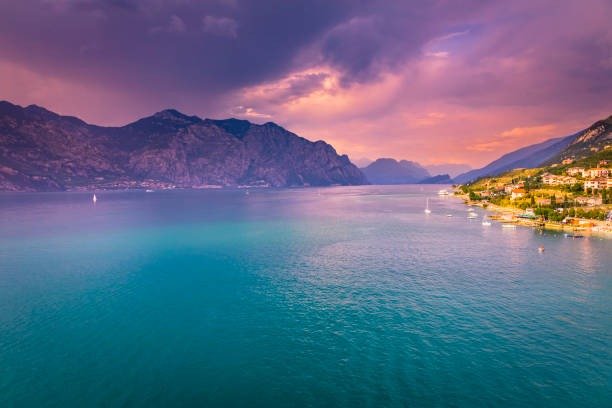 While Lake Garda may be the adventure playground, Lake Como is the epitome of relaxation and serenity. This peaceful oasis invites visitors to unwind and indulge in the finer things in life. The luxurious lakeside resorts offer a haven of tranquility, where you can bask in the sunshine by the pool or enjoy a spa treatment overlooking the shimmering waters. If you prefer a more active yet soothing experience, hop on one of the elegant ferries that crisscross the lake. As you glide through the calm waters, you'll be treated to stunning vistas of the surrounding mountains and grand villas. From the comfort of the boat, you can embrace the sophisticated charm of Lake Como while immersing yourself in its serene atmosphere.
A Culinary Journey: Discovering Lake Garda's Gastronomic Delights
Italian cuisine is moste famous worldwide, and the shores of Lake Garda are no exception when it comes to culinary delights. The region is a paradise for food lovers, offering a rich tapestry of flavors and ingredients that reflect the diversity of the landscape. Lake Garda is renowned for its olive oil production, with numerous olive groves peppering the hillsides.
The local olive oil is of exceptional quality and is a staple in the region's cuisine. From hearty risottos and fresh seafood dishes to mouthwatering gelato and delicate pastries, every bite is a celebration of authentic Italian flavors.
Lake Como: Celebrities' Playground and Glamorous Getaway
Lake Como's allure extends beyond its natural beauty and elegant charm – it has long been a playground for the rich and famous. Numerous celebrities, including George Clooney and Madonna, have chosen Lake Como as their retreat, drawn to its unparalleled beauty and exclusivity. The lake's opulent villas and palaces have been transformed into luxury hotels, attracting discerning travelers seeking a glamorous getaway. These elite establishments offer impeccable service, exquisite cuisine, and breathtaking lake views, ensuring a truly indulgent experience. Lake Como's status as a celebrity hotspot adds an extra touch of allure and mystique to this already enchanting destination. ===The Final Verdict: Which Italian Gem Will Steal Your Heart?
Choosing between Lake Garda and Lake Como is no easy task, as both offer an abundance of natural beauty, cultural riches, and unforgettable experiences. Lake Garda captivates with its stunning landscapes, charming towns, and thrilling outdoor adventures. In contrast, Lake Como entices with its elegance, tranquility, and celebrity allure. Ultimately, the decision comes down to personal preference. Are you seeking an active holiday filled with watersports and exploration? Then let Lake Garda steal your heart. Or perhaps you yearn for a luxurious retreat, basking in the refined ambiance of Lake Como? In the end, both lakes offer an unforgettable experience, ensuring that each visitor finds their own slice of Italian paradise. So, whether you find yourself on the shores of Lake Garda or Lake Como, one thing is guaranteed – you'll be bewitched by the beauty that surrounds you and create memories to last a lifetime.
As we bid farewell to the battle of Lake Garda and Lake Como, we can't help but reflect on the captivating allure of these Italian gems. From the stunning landscapes and charming towns to the gastronomic delights and glamorous getaways, each lake has its own unique charm. Whether you're an adventure seeker, a culture enthusiast, or simply seeking a tranquil escape, Lake Garda and Lake Como offer the perfect blend of beauty, culture, and indulgence. So, pack your bags, embrace the Italian way of life, and let the battle of the lakes begin!
There is an ongoing debate about whether Lake Garda or Lake Como offers the better Italian lake experience. Here is a quick comparison of the two to help travelers decide:
Lake Garda Pros:
– Larger size with longer shoreline and more towns to explore
– Stunning mountain backdrops of the Dolomites
– Greater variety of landscapes – Alpine foothills, rolling moraine hills, peninsulas
– More outdoor activities like sailing, windsurfing, hiking
– Affordable towns and dining options
– Accessible by train and car
Lake Como Pros:
– Deeper lake with brilliant blue color
– Dramatic fjord-like setting in the foothills of the Alps
– Chic resort towns like Bellagio and Varenna with luxury villas
– Glamorous reputation attracting celebrities
– Ancient villages with stone lanes and architecture
– Abundant scenic walking paths
– Boat tours showcasing opulent villas
In summary, Lake Garda offers more diversity of towns, landscapes and activities at a better value. Lake Como provides a more dramatic setting focused on relaxation, sophistication and scenic vistas. Ultimately it comes down to traveler preferences – Garda for an active lake vacation and Como for indulgent tranquility. Both offer sublime Italian lake experiences.
Frequently Asked Questions (FAQ) 
Which is larger, Lake Garda or Lake Como?

Lake Garda is the larger of the two. It is the largest lake in Italy, covering an area of about 370 square kilometers (143 square miles), while Lake Como is approximately 146 square kilometers (56 square miles) in size.

What is the depth difference between Lake Garda and Lake Como?

Lake Garda is deeper than Lake Como. Lake Garda reaches a maximum depth of around 346 meters (1,135 feet), while Lake Como's maximum depth is approximately 410 meters (1,345 feet).

Which lake is more suitable for water sports activities?

Both lakes offer water sports opportunities, but Lake Garda is more popular for water sports due to its larger size and stronger winds, making it ideal for activities like windsurfing, kiteboarding, and sailing.

Which lake has more charming towns and villages around its shores?

Both lakes have picturesque towns and villages, but Lake Como is particularly known for its charming and elegant towns such as Bellagio, Varenna, and Menaggio, which are popular tourist destinations.

Are there more hiking and outdoor activities around Lake Garda or Lake Como?

Lake Garda offers a wide range of outdoor activities, including hiking, mountain biking, and paragliding, thanks to its diverse landscape with mountains and hills surrounding the lake.

Which lake is closer to major cities and transportation hubs?

Lake Como is closer to major cities like Milan and Como itself, making it more accessible for visitors arriving from these urban centers. However, both lakes are relatively well-connected by public transport.

Is Lake Garda or Lake Como better for wine enthusiasts?

Both regions have vineyards and wineries, but Lake Garda is renowned for producing a variety of wines, including Bardolino, Lugana, and Valpolicella, making it a great destination for wine lovers.

Which lake provides better opportunities for fishing?

Both lakes offer fishing opportunities, but Lake Garda is known for its abundance of fish species, including trout, pike, and carp, attracting anglers from all around.

Is Lake Garda or Lake Como more suitable for a relaxing vacation?

Both lakes offer tranquil and serene settings for a relaxing vacation, but Lake Como's quieter ambiance and luxurious resorts may be preferred by those seeking a more exclusive experience.

Are there any cultural attractions or historical sites around Lake Garda and Lake Como?

Both lakes have historical sites and cultural attractions. Lake Garda boasts the Scaliger Castle and Roman ruins in Sirmione, while Lake Como has ancient villas and gardens to explore.