Les meilleurs endroits à visiter au Lac de Garde
20 Best Places to Visit in Lake Garda
Here are the TOP 20 Best Places to Visit in LAKE GARDA (Lago di Garda) is considered one of the most beautiful and popular lake destinations in Italy due to its stunning alpine scenery, charming villages, mild climate, and abundance of activities. Here's a closer look at what makes this Italian lake so captivating:
Nestled between the Dolomite Mountains and rolling moraine hills, Lake Garda enchants with its gorgeous blue waters set against a dramatic mountain backdrop. The lake's shape resembles an inverted "Y", adding over 52 miles of diverse shoreline. These shores are dotted with colorful villages, castles, palm trees, and Italian gardens. Cycling on Best Places to Visit in Lake Garda
A sub-mediterranean climate means Lake Garda enjoys warmer temperatures than expected for Northern Italy along with mild winters. The favorable climate allows Mediterranean vegetation like olive groves, citrus, cypress trees to flourish. There's an almost Riviera-like feel.
Views from the lake reveal the sweeping grandeur of mountains rising steeply toward jagged Alpine peaks. The interplay of light on the water against this natural scenery creates unforgettable vistas. Sunrises and sunsets paint the lake in stunning pinks, blues and gold.
Adding to the beauty are quaint villages lining the lake shores. Cobblestone streets weave by pastel-colored houses with flower boxes and shuttered windows. Cafes and restaurants beckon visitors to enjoy la dolce vita by the water.
There's no shortage of ways to enjoy the lake – strolling seaside promenades, visiting piazzas and castles, windsurfing, sailing, swimming, or simply relaxing lakeside with a good Italian wine. The natural beauty, towns, climate, activities and Italian charm all make Lake Garda a treasure. Best Places to Visit in Lake Garda to make promenades.
Here are some of the top popular and best places to visit in Lake Garda (Lago di Garda) in Italy:
SIRMIONE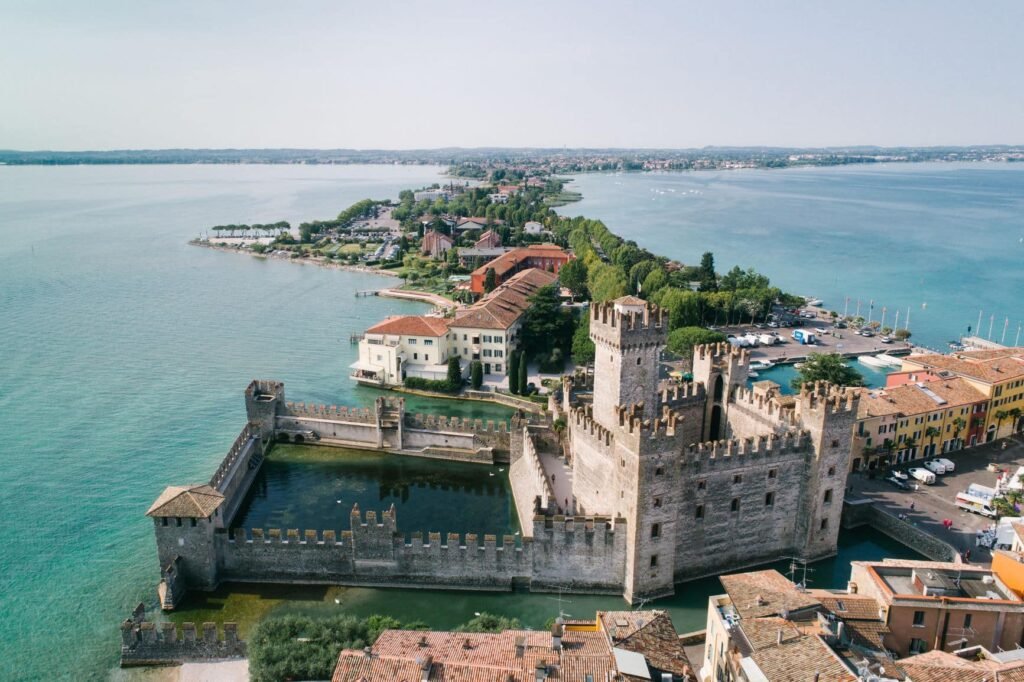 Sirmione – A picturesque medieval town with hot springs, castle ruins, and stunning lake views. Makes a great base for exploring Lake Garda.  Best Places to Visit in Lake Garda is Sirmione
This picturesque medieval town situated on a peninsula jutting into the lake offers narrow cobbled lanes, scenery, and historic sights. The 13th-century Rocca Scaligera castle and its attached harbor boast incredible lake views. Sirmione is also home to the Virgilio & Catullo Spa, built atop ancient Roman spa ruins and hot springs. The vibrant village has lively shops, hotels, restaurants, and beaches, making it a perfect base.
RIVA DEL GARDA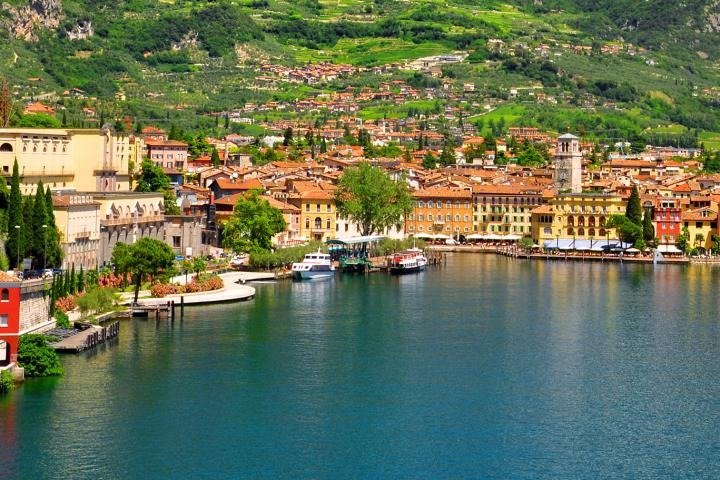 Riva del Garda – A lively town surrounded by mountains, known for its waterfront promenade, restaurants, and as a windsurfing destination. Is also one of the Best Places to Visit in Lake Garda!
Set against a dramatic Alpine backdrop, Riva del Garda is renowned for its waterfront promenade, winding medieval streets, piazzas, and lively harborfront. The town offers sailing, windsurfing, and kayaking amid mountain vistas. Top sights include the Apponale Tower, Roccabruna fortress, and Sanctuary of Our Lady of Lourdes. Its pedestrian area is lined with shops, gelaterias, bars and eateries.
MALCESINE
Malcesine – An ancient village overlooked by a castle, with cobblestone streets, shops, and a cable car up to Monte Baldo.
This charming village has ancient palazzos, fragrant lemon groves, and cobbled lanes leading to cafes and trattorias with al fresco lake views. Perched above is the imposing Castello Scaligero, reached by cable car. The village also has picturesque beaches, windsurfing, mountain hikes in Monte Baldo, and a famed violin-making tradition.
Gardone Riviera – Home to elegant Vittoriale palace and lakeside Hruska Botanical Gardens. Offers sublime lake panoramas.
Nestled against steep verdant hills, Gardone Riviera delights with gorgeous gardens and the lavish Vittoriale estate, former home of poet Gabriele d'Annunzio with immaculate grounds. The Hruska Botanical Gardens offers botanical marvels from five continents alongside panoramic vistas. The lakeside promenade has Art Nouveau architecture.
Bardolino – Charming village located amid vineyards and olive groves, famous for its local Chiaretto rosé wine.
This serene town amid olive groves and vineyards is famed for its local rosé wine. The central Piazza Matteotti harbors cafes for sampling Chiaretto while people watching. Top sights include ruins of a Roman villa, the Romanesque San Severo Church, and the fresco-filled Santa Maria Nova church.
Lake Garda has something for all interests.
Whether seeking nature, relaxation, history, family fun, water sports or Italian cuisine in an idyllic lake setting.
Limone sul Garda – A quaint hillside lemon-growing town praised for its romantic seaside promenade and botanical gardens.
This charming hillside town is renowned for its terraced lemon groves dotting the steep slopes rising from the lake. The lush groves are perfect for relaxing walks with stunning lake views. The main attraction is the lakeside promenade lined with palms and citrus trees, where romantic restaurants serve fresh lake fish. Don't miss the Botanical Gardens with exotic plants.
Gardaland – Italy's largest amusement park, perfect for families seeking theme park thrills and excitement. best Places to Visit in Lake Garda
This sprawling theme park near Lake Garda offers over 40 rides and attractions for all ages. Thrill seekers will love the adrenaline-pumping rollercoasters like Raptor and Blue Tornado. The park also caters to young children with fantasy lands and gentler rides. At night, the park transforms with illuminations and live entertainment.
Desenzano del Garda – A vibrant harbor town with a castle, marina, street cafes and nightlife. Good transport connections and is one of the best Places to Visit in Lake Garda.
Situated on the southern shore, this lively town has a beautiful harbor and historic castle alongside great shopping and nightlife. Piazza Matteotti is filled with cafes perfect for people watching. There's a bustling weekly market and passenger ferries to other lake towns.
Gardone Riviera – Home to elegant Vittoriale palace and lakeside Hruska Botanical Gardens. Offers sublime lake panoramas.
The majestic Vittoriale estate, the former residence of poet Gabriele D'Annunzio, is the jewel of Gardone Riviera. The estate grounds feature an eccentric mix of buildings, gardens, memorials and a museum with D'Annunzio's collections. The Hruska Botanical Gardens nearby also showcase 40 acres of exotic plants and trees from around the world.
Lazise – Walled historical town is known for its medieval castle, churches, porticoes and small beaches for swimming.
This walled lakeside town is one of the best preserved medieval villages in the area. The castle houses a museum with history and artifacts spanning Roman to Renaissance times. The picturesque harbor front has small pebble beaches perfect for swimming. Don't miss the Romanesque church of San Nicolo.
As you dream of far-flung journeys, don't resign your furry friends to the monotonous confines of a kennel facility. By inviting a trusted house sitter into your home instead, your pets can continue enjoying their creature comforts while you're off creating new ones. Once you connect with a caring, qualified sitter who shares your animals'affection, the possibilities are endless. Will you relax on tropical beaches knowing your dogs are still romping through your backyard rather than pacing a cramped cage? Or explore ancient ruins while your cat lazes in her favorite sunny window nook at home? Perhaps you'll taste distant cuisines, confident your rabbit is safely hopping around his hutch. A house sitter preserves your pets' routines while granting you the freedom to embark on exciting adventures. Just ensure you do your due diligence selecting a responsible, experienced sitter who will treat your home and animals like their own. With the right caretaker, you can journey anywhere without worries weighing you down. This is the joy of house sitting – rediscovering the world while your home remains a sanctuary.
IS LAKE GARDA BEST PLACE TO VISIT?
Yes, Lake Garda is absolutely worth visiting! Here's why it makes for such an amazing travel destination:
Scenery – Lake Garda enjoys a sublime setting against the Alpine foothills, surrounded by mountains. The crystal clear waters, varied shores, picturesque villages and mountain vistas create breathtaking views. It's stunningly beautiful.
Outdoor Activities – There's so much to do on and around the lake! You can swim, windsurf, boat, hike in the mountains, bike, and enjoy water sports. The mild climate allows for excellent outdoor adventures.
Italian Charm – From the colorful villages to the Mediterranean gardens and local cuisine, Lake Garda exudes old world Italian charm. Exploring all the history, art, culture and food is a highlight.
Accessibility – Lake Garda's location between Milan and Venice makes it easy to access. There are affordable trains, buses and ferries connecting the towns. Exploration beyond the lake is easy.
Climate – Lake Garda has a mild, temperate climate year-round. Summers are warm not hot, and winters mild. You can enjoy the sights and activities comfortably any season.
Value – Accommodations and dining around Lake Garda are very affordable, especially compared to more touristy Italian destinations. It's fantastic value.
With amazing natural scenery, a tremendous variety of activities and attractions, romantic towns, accessibility, and great year-round weather, Lake Garda offers an idyllic Italian escape. It's absolutely worth a visit!
How much time need to see the best places in Lake Garda?
To see the top attractions and destinations at Lake Garda, I would recommend at least 3-5 days. Here is a sample itinerary for the best places to visit:
Day 1:
Sirmione – Walk around the medieval village, see the Castello Scaligero, and enjoy the lake views. Have lunch by the water.
Gardone Riviera – Tour the gardens at Vittoriale and Hruska Botanical Gardens.
Day 2:
Riva del Garda – Stroll the waterfront promenade and wander the pedestrian streets. Have dinner in the old town center.
Malcesine – Ride the cable car up Monte Baldo for mountain vistas. Explore the castle and village.
Day 3:
Limone sul Garda – Admire the hillside lemon groves. Walk the lakefront promenade.
Gardaland – Spend the day at this huge theme park enjoying the rides and attractions.
Day 4:
Lazise – Visit the medieval castle and churches. Relax on the small pebble beaches.
Bardolino – Sample the famous local rosé wine. Enjoy the laidback lakefront vibe.
Day 5:
Desenzano del Garda – See the castle and old port. Check out vibrant cafes and shops.
Day trip to Verona – Just 30 mins away, see Juliet's balcony and Roman Arena.
This provides a nice mix of nature, history, culture, activities and relaxation to experience the best of Lake Garda. Extend your stay if time allows!
Here was my description of the Best Places to Visit Lake Garda as I also living near and very often see this beautiful paradise!!!
Here are Things you Must Do on Lake Garda
FAQs – Best Places to Visit in Lago di Garda
What are the top attractions on Lago di Garda?

Lago di Garda offers a plethora of attractions, including Scaliger Castle, Grottoes of Catullus, Malcesine Castle, Riva del Garda, and Gardaland Theme Park.

Is Sirmione a must-visit place on Lago di Garda?

Absolutely! Sirmione is renowned for its picturesque beauty, historic charm, and the famous Scaliger Castle.

Are there any charming villages to explore on Lago di Garda?

Yes, Lago di Garda boasts several charming villages like Limone sul Garda, Bardolino, Lazise, and Desenzano del Garda, each offering its unique ambiance.

What are the best places for panoramic views of Lago di Garda?

You can enjoy stunning panoramic views from Mount Baldo, Rocca di Manerba, and Punta San Vigilio.

Are there any natural wonders to discover on Lago di Garda?

Yes, the Grottoes of Catullus in Sirmione, the Waterfalls of Varone, and the picturesque Lake Tenno are some of the natural wonders worth exploring.

Which towns offer a vibrant atmosphere and lively nightlife on Lago di Garda?

Riva del Garda and Desenzano del Garda are known for their lively atmosphere, bars, clubs, and entertainment options.

What are the best places for water activities on Lago di Garda?

Lago di Garda is perfect for water activities like windsurfing, sailing, kayaking, and swimming, with popular spots in Torbole, Malcesine, and Limone sul Garda.

Are there any historical sites with cultural significance on Lago di Garda?

Yes, you can explore the Roman ruins in Toscolano-Maderno and the Vittoriale degli Italiani in Gardone Riviera.

Can I enjoy the outdoors and nature on Lago di Garda?

Absolutely! Lago di Garda offers various hiking and biking trails, gardens like the Hruska Botanical Garden, and scenic lakeside promenades.

Which places offer opportunities for wine tasting and local delicacies on Lago di Garda?

The wine regions near Bardolino and Valpolicella offer excellent wine tasting experiences, and lakeside towns provide opportunities to savor local Italian delicacies.