From Verona to Lake Garda
Verona City of Romance
Welcome to Verona – City of Romance and Roman Ruins
Plan a visit to Verona and would like to get from Verona to Lake Garda towns?
Resting along the winding Adige River in northern Italy sits the enchanting city of Verona. This jewel of a destination dazzles visitors with its blend of medieval charm, Roman history, and culture-rich offerings. Verona steeps you in la dolce vita amid cobbled lanes, vibrant piazzas, and ancient sites that inspired Shakespeare. Give yourself at least 2-3 days to explore this romantic town and surrounding countryside. From tragic love stories to exquisite food and wine, Verona satisfies heart and soul.
Verona's Storied Past
Verona traces its roots back to Roman times when it was a prosperous walled city astride trading routes. Remnants of the Roman era still define Verona today, including the mammoth Arena di Verona amphitheater that hosted gladiator fights and chariot races. Verona flourished under Venetian rule in the Middle Ages, leaving a heritage of Gothic palazzos, bridges, and fortified towers gracing its streets.
Austrian control followed for centuries until Verona became part of unified Italy in 1866. Ruled by various emperors and dynasties, Verona has preserved its culture, traditions, and illustrious past for modern travelers to relish. This deep history is palpable while exploring Verona's poetic lanes and artistic treasures.
Verona's Neighborhoods
At the heart of Verona sits Piazza Bra, a massive square encompassing sidewalk cafes, restaurants, and high-end shops bordered by graceful colonnades. Verona's grand Roman arena commands one end of Piazza Bra, while the front of historic city hall backs the opposite side. This lively hub links many of Verona's must-see sites and attractions.
Just north of Piazza Bra lies Verona's historic center cradled by a loop in the Adige River. Here you'll get lost amid the narrow medieval lanes and piazzettas that have hardly changed since Shakespearean times. Atmospheric restaurants, boutique hotels, and quirky shops beckon along cobblestone streets that spirit you back centuries.
Across the river, Verona's more modern districts hold additional treasures like the Giardino Guisti, Castel San Pietro, and vibrant university district. Surrounding the city, cypress hills cradle vineyards producing Amarone and Soave wines that have made the Verona region famous.
Top Things to Do in Verona
With so much history, culture, art, and life, deciding where to start in Verona can be daunting. Here are top attractions and activities to add to your Verona itinerary:
Climb the Torre dei Lamberti – Soak up sweeping city views ascending this medieval tower in Piazza del Erbe.
Tour the Arena di Verona – Visualize gladiatorial combat in this monumental 1st-century Roman amphitheater.
See Juliet's House – Rub the breast of her statue for luck at "Casa di Guilietta", setting of Shakespeare's romance.
Stroll Piazza del Erbe – People watch and have lunch at this bustling square surrounded by palazzos and cafes.
Cross Ponte Pietra – This iconic bridge has spanned the Adige River since Roman times.
Explore Castelvecchio – Verona's hilltop medieval castle holds masterpieces in its art museum.
Wander Giardino Guisti – Escape to romantic gardens where statues, grottoes, and fountains create a poetic landscape.
Gaze at Sant'Anastasia – Verona's largest church boasts exquisite frescoes and soaring Gothic arches.
Tour Sottoriva – Descend cobblestone lanes into this charming district along the river.
Dine Al Fresco – Enjoy an Aperitivo or meal at a sidewalk cafe in lively Piazza Bra.
Sip Wine at Cantine de l'Arena – Sample Valpolicella and Amarone wines in a cellar carved from Roman ruins.
Catch an Opera at the Arena di Verona – Attend world-class productions in this dramatic open-air venue during summer season.
Pedal to Nearby Wineries – Bike through vineyards and olive groves to sample wines at small local estates.
The city center is compact and walkable making it easy to take in Verona's highlights in 2-3 days, longer if you want to delve into museums and day trips. Simply strolling Verona's atmospheric streets soaking up the charm is an activity itself!
Culinary Delights in Verona
One of the great joys of Verona is sampling the city's culinary bounty from regional dishes to excellent wines. As a prosperous trading hub between north and south, Verona boasts diverse influences which season its plates. Traditional Veronese fare shows hints of Austrian, French, and Slavic flair married with Italian staples.
For first courses, try creamy risotto, gnocchi, or freshly filled pasta like delicate ravioli. Move onto hearty secondi of slow-braised game and stews, roasted meats, or creamy polenta with ragù. Don't miss bolliti misti – mixed boiled meats served with spicy mustard, a local specialty.
Verona sits amidst the vineyards of Valpolicella producing iconic Amarone and Valpolicella red wines. Sample them at wine bars and osterias alongside apertivo nibbles for the perfect pairing. Finish meals satisfied with sweet pastries, dessert wine, or creamy gelato handcrafted by artisans.
Foodies also flock to Verona for its bustling markets selling farm-fresh produce, local cheeses like Monte Veronese, and regional cured meats and salumi. Pair picnic provisions with a bottle of Verona's signature Soave white wine for an impromptu lakeside lunch or dinner while soaking up vistas of rolling vineyards.
Verona at Night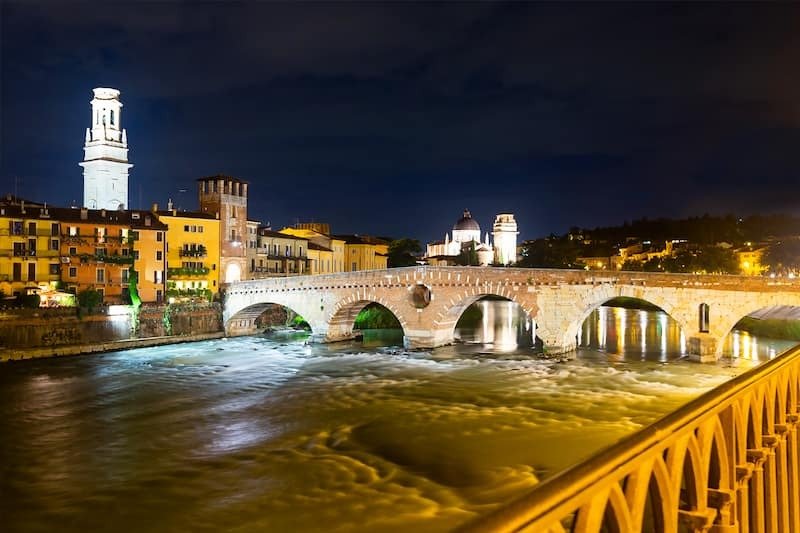 After sunset, Verona takes on a magical allure with iconic monuments illuminated and lively bars and clubs keeping energy buzzing late. Stroll the city center admiring lit-up landmarks without daytime crowds. At cafes, relax with a Spritz cocktail or bold Italian espresso after indulgent dinners.
For nightlife, university students and young professionals flock to spots like Piazza Erbe, the Arche Scaligere area, and riverside Ponte Pietra. Mingle with locals over Negronis at swanky cocktail bars or dance to DJs spinning tunes at sleek nightclubs. An evening passeggiata is the perfect capstone after busy days exploring.
Side Trips from Verona to Lake Garda
While Verona itself offers ample attractions, the surrounding region provides fantastic opportunities for day trips or excursions. Here are top side journeys:
Lake Garda – Just 30 minutes east, discover picturesque towns,Mediterranean vistas, and lakeside villas.
Valpolicella – Tour wineries and taste Amarone at estates amidst vine-filled valleys north of Verona.
Sirmione – Explore a medieval castle, Roman ruins, and thermal spas on this peninsula in Lake Garda.
Vicenza – See Palladian architecture and exhibits at museums in this elegant town just 45 minutes east.
Venice – Spend a day discovering iconic canals, bridges and carnevale spirit in Verona's lagoon neighbor.
Dolomites – Drive 2 hours north to hike and explore the soaring sawtooth mountain range.
Verona makes an ideal launchpad for discovering the beauty of Veneto and northern Italy with efficient trains and highways connecting its UNESCO sites and postcard landscapes. Use Verona as a basecamp to create your own Italian itinerary!
Four Seasons in Verona
Each season provides its own flavor in Verona, ensuring year-round reasons to visit. Spring sees blossoming cherry trees, mild weather for sipping wine al fresco, and colorful Easter parades. In summer, outdoor opera at the Arena di Verona is a highlight along with balmy nights eating gelato.
Autumn welcomes harvests of grapes and olives, endemic Truffle Festival, and pleasant days to tour countryside abbeys and vineyards bathed in golden light without crowds. Romantic winter illuminations, Christmas markets, and classical concerts get visitors in the festive spirit. Whenever you choose to visit, Verona charms with its scenery and spirit.
Moving Forward in Verona
With its rich past, iconic monuments, convivial spirit, and idyllic setting between river and vine-laden hills, Verona is ready to steal your heart. Lose yourself in this living poem where ancient ruins, medieval towers, and vibrant culture weave together seamlessly. From moonlit operas to winding lanes unchanged since Roman times, Verona is an effortless blend of pleasures for the soul.
As the Italian proverb says "Vedi Napoli e poi muori" (See Naples and then die). In Verona, you'll find so much to savor you'll never want to leave. Experience it for yourself and add your own verse to Verona's story. The city's heart awaits you!
from Verona to Lake Garda
How to Get from Verona to Lake Garda Towns
In this post today, I will give you extensive and first-hand tried and tested information on reaching Italy's largest lake from Italy's City of Love to Pearl of Italy – Lake Garda
Iconic Italian Towns to Discover from Verona
Thanks to its central location in northern Italy's Veneto region, Verona makes an ideal base to reach some of the country's most spectacular destinations. Below we detail must-visit towns accessible as easy day trips or overnight excursions, along with the unique gems found in each place and logistics to get you there. From alpine lakes to renaissance cities, Verona connects you to la bella vita!
Lake Garda
Only 30 minutes east of Verona awaits magnificent Lake Garda, the largest lake in Italy. This Mediterranean jewel dazzles with stunning blue waters set against a backdrop of rugged cliffs and picturesque villages. Some highlights include:
Sirmione – A charming lakeside village on a narrow peninsula home to ancient Roman ruins and a stunning 13th century castle. Wander cobblestone streets and sunny piazzas.
Riva del Garda – A lively resort town situated on the northern edge of Lake Garda beneath towering mountain cliffs. The perfect base for sailing, windsurfing and hiking.
Limone sul Garda – A sleepy seaside village engulfed by steep mountainsides covered in lemon groves, which give it its name. Garda Town – A romantic town with pastel-hued harborside promenades and cliffside medieval fortresses. Ideal for sipping wine by the waterfront.
Reaching Lake Garda: Trains depart Verona Porta Nuova station hourly reaching towns like Desenzano del Garda in just 25 minutes. Otherwise, scenic drives take around 30 minutes.
Traveling in Style from Verona to Lake Garda
With its stunning backdrop of mountains and charming lakeside villages, Lake Garda makes for an idyllic Italian getaway. Luckily, Italy's largest lake is conveniently accessed from Verona just a short distance to the west.
In this practical guide, we'll walk through multiple transportation options for reaching Lake Garda from Verona smoothly and affordably. Whether traveling solo or with a group, we've got you covered with insider tips for trains, buses, driving, and tours. Let's dive in and start planning your breezy Italian escape!
Going by Train
One of the easiest, most scenic ways to reach Lake Garda from Verona is by train. Direct regional trains run frequently from Verona Porta Nuova station to two Lake Garda stations:
Desenzano del Garda – Largest town on the southern shore, gateway to Sirmione peninsula and other resorts.
Peschiera del Garda – Walled historic town near Gardaland amusement parks and mid-lake ferries.
The rail journey from Verona Porta Nuova station to these destinations averages just:
Desenzano del Garda: 25 minutes
Peschiera del Garda: 15 minutes
Trains generally depart at least twice per hour starting early morning until late evening. One-way train tickets cost around 5-15 EUR based on type of train. Trenitalia and Italo offer the fastest connections.
The train stations in both Desenzano and Peschiera are centrally located making it easy to walk to downtown attractions, hotels and ferries. Keep your ticket handy in case it needs to be shown exiting the stations.
Do give yourself buffer time for purchasing tickets, navigating busy Verona Porta Nuova station, and validating tickets before boarding. The platforms can be packed during peak hours. Aim to arrive at the station at least 30 minutes before your desired train departure.
Helpful Train Tips:
Book in advance on Omio app if you want peace of mind re: schedules and fares.
Validation machines are located on platforms, validate ticket before boarding.
Regional trains are the most budget-friendly option for this short journey.
High-speed Freccia trains take same time but cost much more.
Bikes can be transported on regional trains if folded or disassembled.
Traveling in comfort and style by train is a hassle-free way to commence your Lake Garda adventure. Enjoy a prosecco toast as the glittering lake comes into view on approach to Desenzano or Peschiera!
Driving By Car
Renting a car provides maximum flexibility for exploring Lake Garda at your own pace. The drive from Verona to popular points on the southern lake shore takes under an hour.
Having wheels lets you stop wherever inspires – secluded beach coves, tiny villages, panoramic lookouts and more. Auto routes include:
Verona to Sirmione: 45 km, 40 min
Verona to Desenzano: 45 km, 35 min
Verona to Lazise: 27 km, 30 min
Verona to Bardolino: 33 km, 35 min
Verona to Garda Town: 40 km, 40 min
The fastest route relies on the A4 highway before turning off towards Lake Garda. Alternately, more scenic but slower provincial roads also connect Verona to Lake Garda passing through vineyards and olive groves.
Tools like Google Maps make navigating a breeze. Diesel, petrol and LPG are readily available around the lake. Parking in lake towns requires payment via meters or apps like EasyPark.
Helpful Driving Tips:
Reserve rental car well in advance for best rates and vehicle options
Carefully review rental terms – some exclude crossing country borders
Understand your insurance coverages – add extra coverage if needed
Narrow winding lanes require alert driving, pull over for impatient locals
Keep coins and apps ready to pay for parking in lake villages
Confirm if your lodging offers private parking or secure garage
With your own set of wheels, Lake Garda becomes a flexible playground for wherever your travels take you. Savor the freedom of the open road Dolce Vita-style!
Riding By Bus
For an affordable and scenic journey, public buses connect Verona to popular Lake Garda towns multiple times per day. Key routes include:
Verona to Peschiera del Garda: 35-40 min
Verona to Lazise: 50 min
Verona to Garda: 60 min
Verona to Desenzano: 60 min
In Verona, buses bound for Lake Garda depart from Piazza Bra (near Arena di Verona) and Porta Nuova station. In-bus WiFi and toilets make longer rides more comfortable.
Once at your Lake Garda destination, hop aboard local buses looping around the lake. For example, Line C circles the southern resort towns. Or change routes to reach northern points like Malcesine and Riva del Garda.
Printed schedules are available at stations and ticket offices. Buying ahead via apps like Moovit saves the hassle. Tickets generally run 3-7 EUR per journey depending on distance.
Helpful Bus Tips:
Validate ticket in the yellow machine upon boarding to avoid fines.
Keep bags and gear secure, bus stations often have lockers.
Opt for less crowded mid-morning or mid-afternoon buses.
Track live locations so you don't miss your stop.
Motion sickness? Sit near the front of the bus if possible.
From dramatic cliffside views to quaint villages, the bus provides a relaxed way to soak up gorgeous Lake Garda scenery. Simply sit back and enjoy the ride.
Sailing By Ferry
A wonderful perspective for experiencing Lake Garda is from out on its beautiful blue waters. Daily ferries crisscross the lake between scenic towns.
The ferry docks are centrally located, allowing easy connections by bus, train or walks along the lakefront. Major ferry routes and times include:
Peschiera del Garda to Lazise: 25 min
Lazise to Bardolino: 15 min
Bardolino to Garda: 30 min
Garda to Sirmione: 55 min
Use ferries to reach key points then continue exploring via other transport options. For instance, sail from Peschiera del Garda to Lazise then board a bus to nearby villages.
One-way ferry tickets are 10-15 EUR depending on distance traveled. Discounted multi-ride and daily passes provide savings for regular riders.
Helpful Ferry Tips:
Reserve ahead for car ferry crossings as space is limited
Arrive 20 min before departure to avoid stress
Pick seats on upper decks for best lake views
Bring sun protection, ferries lack much shade
Prevent motion sickness with medication if prone
Glide stress-free across the sparkling waters from town to town. Lake Garda ferry rides add a uniquely relaxing twist to your Italian escape.
Touring in an Organized Group
For travelers short on time, guided Lake Garda day tours from Verona make exploring efficient and educational. Knowledgeable guides whisk you to top attractions around the lake in comfortable transport.
Typical highlights of Lake Garda tours from Verona include:
Sirmione Peninsula – Roman ruins, Scaliger castle
Lazise – Medieval lake town with shops and cafes
Wine tasting – Bardolino and Lugana vintages
Garda Town – Seaside resort with promenade and fortress
Olive oil tasting – Learn secrets of Italian olive cultivation
Tours generally run 8-10 hours and cost 70-150 EUR per person depending on amenities included. Private and custom tour options are also available.
Helpful Tour Tips:
Read reviews and fine print to understand what's included
Book early for best price and date choices
Check tour length, pace and activity level
Understand the size of the group
Clarify if food and beverages are included
Ask if hotel pickups are available
Sit back and leave the logistics to your guide on a well-orchestrated Lake Garda day tour from Verona.
Verona Airport for Stress-Free Arrivals Verona Airport, also called Valerio Catullo, offers the most convenient access point for reaching Lake Garda, just 20 km south.
With a shiny modern terminal, the airport offers flights from across Europe on Air Dolomiti, Ryanair, Wizz and more. Car rental desks like Avis and Maggiore are onsite.
The ATV Aerobus shuttle runs regularly from Verona Airport to Porta Nuova rail station taking 15 minutes. One-way tickets cost 6 EUR purchased from machines or the bus driver.
Taxis queue outside the terminal for hassle-free rides to Verona city center or directly to Lake Garda accommodations if you prefer. Taxi fare estimate:
Verona city center: 25 EUR
Lake Garda towns: 80-100+ EUR
Helpful Airport Tips:
Allow time for baggage claim, some Air Dolomiti flights are not direct
Keep small coins ready for bus tickets or use Bancomat card instead
Clarify with your hotel about paid transfers from Verona Airport
Ask taxi to use meter, fix surcharge to Lake Garda before departure
Locate rental car shuttles if collecting pre-booked car
Arriving relaxed and ready for Lake Garda starts with a smooth landing at convenient Verona Airport.
Verona Central Train Station for Onward Travel Verona Porta Nuova is the city's main train station, located south of the historic center. This transportation hub offers easy onward travel to Lake Garda upon arrival.
From the station, it's a quick 10 min taxi or 25 min bus ride to central Verona. Porta Nuova has frequent high-speed and regional train connections including:
Milan: 1.5 hours
Venice: 1 hour
Bologna: 1 hour
Rome: 4 hours
For reaching Lake Garda, regional trains to Desenzano del Garda and Peschiera del Garda take 25-35 minutes from Verona Porta Nuova. It's easy to purchase tickets at station vending machines.
The adjacent bus terminal also offers budget rides to Lake Garda destinations like Lazise, Garda Town and Sirmione. Buses take 45-70 minutes depending on destination.
Helpful Station Tips:
Validate your ticket before boarding trains to avoid fines
Assess ticket options – regional trains are most economical
Bus tickets are sold at station machines or on board
Keep luggage secure – carts must be manned and can tip
Verona's Porta Nuova station acts as the perfect launch point to whisk you onwards to relaxing Lake Garda.
Lodging at Lake Garda – Where to Stay Lake Garda offers diverse lodging options to fit any style and budget. Consider these factors when choosing your accommodation:
Location – Pick a Lake Garda town convenient to activities you want nearby.
Style – Select hotel, B&B, apartment or agriturismo that fits your vibe.
Access – Check transportation links if not renting a car.
Amenities – Seek accommodations with parking, views, pools, WiFi etc.
Booking.com provides options in every town around Lake Garda from charming B&Bs to sleek lakefront resorts. Reserve early for best rate, availability and location.
Helpful Booking Tips:
Read reviews carefully for cleanliness, location, bed comfort, etc.
Book refundable rates in case plans change closer to arrival.
Look beyond hotels to unique stays like tents, huts, boats, etc.
Require air conditioning, parking or other amenities? Check they are noted.
Contact the property with any questions before booking.
After long days exploring Lake Garda's beauty, unwind at comfortable accommodations reflecting your travel style.
The open road, rails and water await your exploration from Verona to Lake Garda. Choose your transport, book your stay and prepare for La Dolce Vita amongst dazzling Italian lakeside villages! Have any questions on logistics or need tips for other Italian destinations? Let us know, travel advisory is our passion!
Hope I gave you best tips about From Verona to Lake Garda arriving methods.
FAQs: From Verona to Lake Garda
Q: How far is Lake Garda from Verona?
A: Lake Garda is approximately 25 kilometers (15.5 miles) away from Verona.
Q: What is the best way to travel from Verona to Lake Garda?
A: The most common and convenient ways to travel from Verona to Lake Garda are by car, bus, or train.
Q: How long does it take to reach Lake Garda from Verona by car?
A: The travel time by car can vary depending on traffic and your specific destination around Lake Garda, but it generally takes around 30 to 45 minutes.
Q: Are there direct buses from Verona to Lake Garda?
A: Yes, there are regular bus services connecting Verona to various towns and villages around Lake Garda.
Q: Can I take a train from Verona to Lake Garda?
A: While there isn't a direct train connection to Lake Garda, you can take a train from Verona to nearby train stations like Desenzano del Garda or Peschiera del Garda and then use local transportation to reach your final destination on the lake.
Q: What are some towns around Lake Garda that I can visit from Verona?
A: You can explore charming towns such as Sirmione, Bardolino, Garda, and Lazise, among others, all within reach from Verona.
Q: Is it possible to rent a car in Verona and drive to Lake Garda?
A: Yes, renting a car in Verona gives you the flexibility to easily drive to different parts of Lake Garda and explore its surroundings.
Q: Are there guided tours available from Verona to Lake Garda?
A: Yes, there are various guided tours that offer day trips from Verona to Lake Garda, allowing you to experience the highlights of the region.
Q: What is the best time of year to visit Lake Garda from Verona?
A: Lake Garda is wonderful to visit throughout the year, but the spring and summer months offer pleasant weather for outdoor activities and enjoying the lake's beauty.
Q: Are there bike paths or cycling routes from Verona to Lake Garda?
A: Yes, there are cycling routes that connect Verona to Lake Garda, providing a scenic and active way to travel between the two destinations.
Q: Can I take a boat ride from Verona to explore Lake Garda?
A: While there are no direct boat rides from Verona, you can travel to lakeside towns and take boat tours to explore Lake Garda's stunning landscapes.
Q: Are there any historical sites or attractions to see along the way from Verona to Lake Garda?
A: Yes, you can stop at places like the Scaliger Castle in Sirmione or the ancient Roman ruins in Desenzano del Garda as you travel between Verona and Lake Garda.
Q: Are there options for accommodation near Lake Garda if I'm traveling from Verona?
A: Yes, you'll find a range of accommodations, including hotels, B&Bs, and vacation rentals, in towns around Lake Garda.
Q: Is it possible to make a day trip from Verona to Lake Garda and back?
A: Yes, Lake Garda is close enough to Verona to make it a feasible day trip, allowing you to experience its beauty and return to Verona in the evening.
Q: Are there any local festivals or events near Lake Garda that I can attend while traveling from Verona?
A: Lake Garda hosts various cultural events, food festivals, and entertainment throughout the year, providing a chance to experience the local culture during your visit from Verona to Lake Garda.